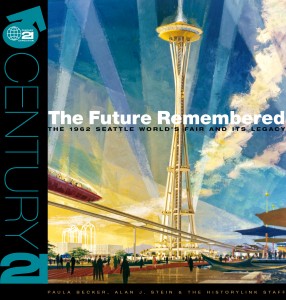 Astronauts, Elvis, sky rides, royalty, the Kennedys, religion, topless showgirls, the Space Needle, the Monorail, Cold War jitters, futuristic speculation — the 1962 Seattle World's Fair had it all.  This was a heady, hopeful time.  The American space program reached for the moon, the newly-formed Peace Corps reached for global harmony, and Seattle reached for glory and the world's attention.  This era — these people — come vividly to life in The Future Remembered: The 1962 Seattle World's Fair And Its Legacy. 
This 300-page, image-rich hardcover tells the story of the fair: how the space race lit a fire under Seattle's movers, shakers, and dreamers. How these inspired citizens turned their little-known, geographically isolated city into the place that invented the future.  Packed full of interviews with those who brought this world's fair — the Century 21 Exposition — into being, The Future Remembered celebrates a city's — and a nation's — hopes and optimism.  Commissioned by Seattle Center Foundation for the fair's 50th Anniversary, The Future Remembered is the official commemorative history of the 1962 Seattle World's Fair.
Awards:   2012 Association of King County Historical Organizations Virginia Marie Folkins Award for Outstanding Historical Publication
2012 Historic Seattle Preservation Award for Heritage Education Publication
Paula Becker and Alan Stein show off the Museum of History and Industry's Seattle World's Fair exhibit at Seattle Center. This footage was created spontaneously at DigitalReporter's request during one of Paula and Alan's daily appearances at 2012 Northwest Folklife Festival.
Paula Becker and Alan Stein host Seattle World's Fair History Café for KCTS9 in front of a live audience at Roy Street Café.