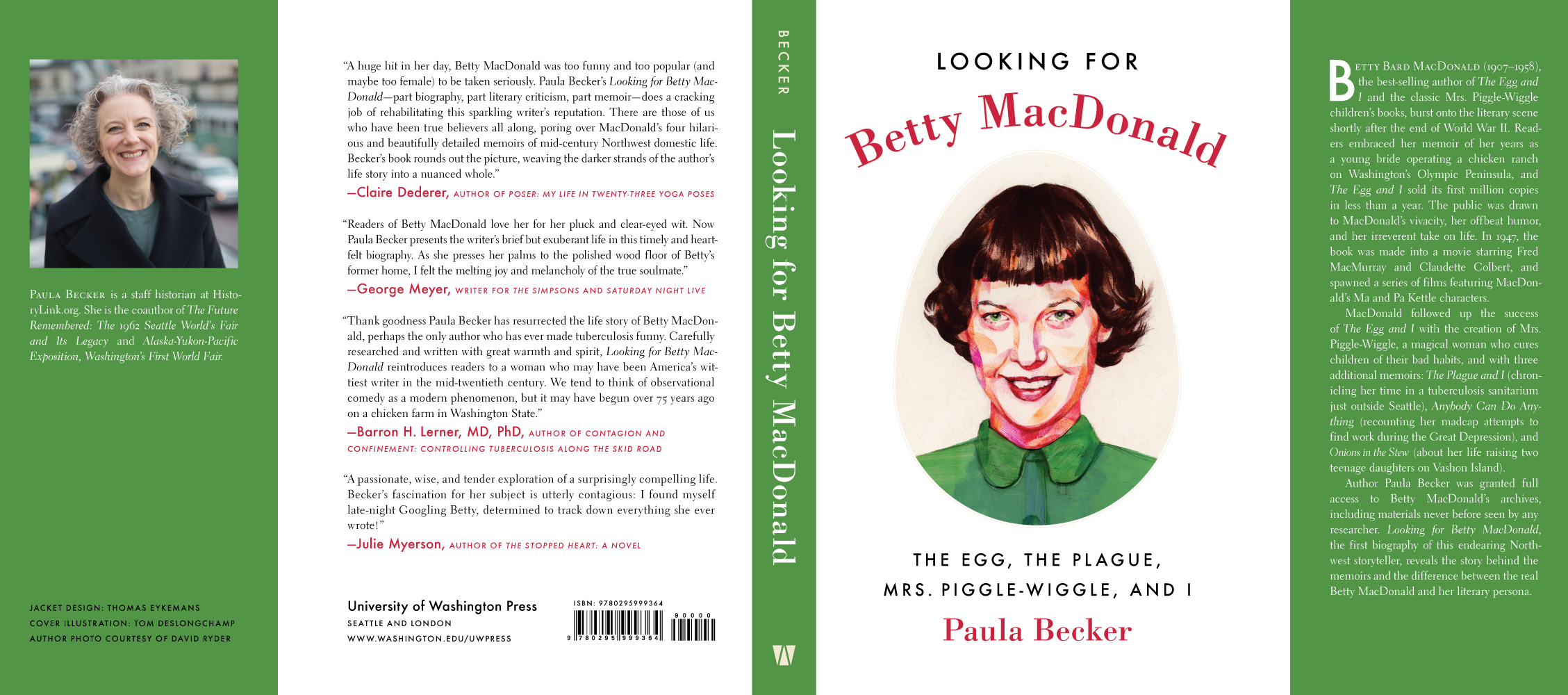 My latest book is Looking For Betty MacDonald: The Egg, The Plague, Mrs. Piggle-Wiggle, and I,  a biography of internationally famous Seattle writer Betty MacDonald. I am pleased to be partnering with University of Washington Press.
Critical praise for Looking For Betty MacDonald:
Becker, allowed access to the trove of her subject's correspondence, has done eloquent, measured justice to the 'hungry ghost' of Betty MacDonald. . . . Looking for Betty MacDonald is a riveting account of a quick-fire, ambitious, mercurial intellect; the story of a woman who met the demands of both her sophisticated, struggling family and of her 'interesting times' with a defiant, pawky smile.—Imogen Russell Williams, Times Literary Supplement, December 21, 2016

Paula Becker's astute, affectionate and often startling Looking for Betty MacDonald is the first biography of this singular American writer. . . The biography fills in crucial and sometimes shocking gaps in her story, rendering MacDonald's achievements all the more extraordinary. . . . Becker is a historian and writes with a historian's precision, but she has a fan's insight and warmth. The result is a thorough and illuminating biography that, with any luck, will lead a new generation of readers to MacDonald's own remarkable work.—Jennifer Reese, Washington Post, October 17, 2016
The Egg and I, The Plague and I and Anybody Can Do Anything practically cavort off the page. How did [Betty MacDonald] do it? Seattle author Paula Becker has some answers in her compact, finely crafted biography.—Michael Upchurch, Seattle Times, September 4, 2016
A must read for fans…This volume will send readers away satisfied and eager to reread their favorite MacDonald books. Written in an easygoing style for the general reader, this book will appeal to anyone familiar with MacDonald's books who has found themselves curious about the author.–Stefanie Hollmichel, Library Journal
A smart and immensely readable portrait, taking readers through MacDonald's life. . . . Becker has combed every interview and profile, and her book veritably glows with MacDonald's recaptured wit. . . . Thanks to Paula Becker's exhaustive research and the compassionate, standard-setting book she's shaped out of it, 21st century readers can meet a much fuller and more fascinating version of that complex, challenging, laughing woman. Readers of her books will still want to thank her, but thanks to Looking for Betty MacDonald, they'll know her much better.—Steve Donoghue, Open Letters Monthly, September 20, 2016
The pages zing with unexpected detail and nuggets of lacerating wit. . . If you're Looking for Betty MacDonald, you need look no further.—Barbara McMichael, Kitsap Sun, September 17, 2016
I was delighted to explore MacDonald's life and work through Paula Becker's thoughtful, painstakingly researched biography, and even more thrilled to see that University of Washington Press is going to be reprinting three hard-to-find later works by the bestselling author of The Egg and I: Anybody Can Do Anything, The Plague and I, and Onions in the Stew. . . . If you're not a MacDonald enthusiast, you will be soon. . . . We can be grateful that Becker has preserved it for us in words, and has given us valuable insights into her world, her books, her family, and the writer herself.—Lory Widmer Hess, Emerald City Book Review, September 9, 2016
I have been researching and writing about Betty MacDonald since the late 1990s, and many of my essays about various aspects of her life and work can be found on HistoryLink.org by following the links below.
MacDonald's first book, The Egg And I, rocketed to success upon its publication in 1945. Published by J. B. Lippincott, Egg sold more than a million copies within its first year.  Egg has been translated into many languages, generating a fan base that spans the globe.  After 70 years, The Egg And I has never officially gone out of print.  Universal Pictures released a film version of The Egg And I starring Claudette Colbert and Fred MacMurray in 1947.  This film's greatest impact may have been the introduction of veteran character actors Marjorie Main and Percy Kilbride in the roles of Ma and Pa Kettle.  Main and Kilbride reprised their roles in a wildly popular series of Ma and Pa Kettle films.
MacDonald's subsequent memoirs, The Plague And I, Anybody Can Do Anything, and Onions In The Stew were all produced between Egg's publication and MacDonald's early death in 1958.  These years also produced the children's works for which Betty MacDonald is perhaps best-know today, the four-volume Mrs. Piggle-Wiggle series.  MacDonald also wrote the cult favorite, Nancy and Plum.
I am interested in Betty MacDonald as one of the premiere memoirists of her era, as one of the first Seattleites to achieve world-wide recognition, and as a gifted writer who was able to translate her difficult — even grim — life experiences into books whose biting humor and vivid storytelling strikes readers as both hilarious and reassuring.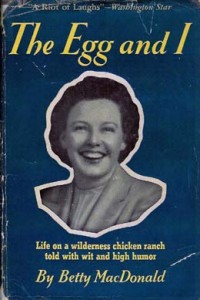 Betty MacDonald's House in Seattle's Roosevelt District: Final Glances.
Betty MacDonald's The Egg And I is published on October 3, 1945.
Washington Governor Mon C. Wallgren presents Betty MacDonald with the one millionth copy of The Egg And I on September 12, 1946.
Betty MacDonald's Mrs. Piggle-Wiggle is published on March 26, 1947.
Libel trial against Betty MacDonald of Egg And I fame opens in Seattle on February 5, 1951.
Seattle jury finds for the defendants in libel suit against Egg And I author Betty MacDonald on February 20, 1951.
Jefferson County resolution officially establishes Egg And I Road in Center on February 3, 1981.
Betty MacDonald and Mary Bard: A Slideshow Tour of their King County Homes.
Read Paula Becker's interview with Valerie Easton for Book City on Crosscut.com
Save