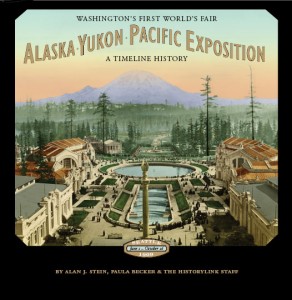 The 1909 Alaska-Yukon-Pacific Exposition brought Seattle and Washington into the global spotlight.  Seattle first caught national attention during the Klondike gold rush, when civic boosters  marketed their town as the point of departure for the gold fields.  A-Y-P celebrated the rich rewards Seattle had reaped by outfitting and serving gold-crazed miners, and forecast the promise of even greater riches yet to come as Washington's trade with Pacific Rim countries increased.
The 3.7 million visitors to the fair during its 4½-month run on the University of Washington campus beheld a cornucopia of exhibits housed in an astonishing collection of temporary and permanent buildings and enjoyed the carnival-like — and sometimes controversial — entertainments of the A-Y-P's Pay Streak midway.
The A-Y-P Exposition was a major community effort for a state that was then only 20 years old. It was the first world's fair to make a profit, it provided a platform for advocates of woman suffrage, and it set the general plan for the University of Washington campus that endures to this day.  Alaska-Yukon-Pacific Exposition: Washington's First World's Fair, beautifully produced and profusely illustrated, documents the history of the A-Y-P from its inception to the present day.
Paula Becker hosts A-Y-P mini-documentary on filmmaker Vaun Raymond's Lake Union Virtual Museum.
Paula Becker and Alan Stein host Alaska-Yukon-Pacific Exposition/Gold Rush History Café for KCTS9 in front of a live audience at Ravenna Third Place Books.